In 1974, in our little town of Bremerton, Washington, a younger Nick Garguile had a simple idea to have a fun little diner style restaurant. We've remained a family-owned and operated business because operating any other way wouldn't be true to who we are. We work hard to provide an experience that exceeds our customers' expectations at every level. And we work hard to deliver the best products with dignity and respect, so that our customers will continue to say "mmm, that was good" every time. That is the Noah's Ark Restaurant difference.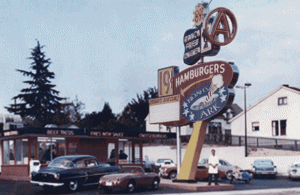 A huge part of our success is due to the quality people that work for us. After Nick founded
 Noah's Ark, it didn't take him long to realize that if he valued people as family, he'd be successful no matter how many burgers he sold. That's why we treat all Noah's Ark Restaurant employees as family members.  Over the years, we've added a few more burgers, served too many baskets of our hot fries to count, and perfected our salads and Philly cheese steaks, but our commitment to you – our customers – hasn't changed.
We aren't fancy. We just stick to what got us here. We still choose the right way over the easiest or fastest way. We are Bremerton's hardworking family serving your hardworking family. What you see is what you get at Noah's Ark Restaurant; we hope you like it and you'll keep coming back for more. See you soon!